Pleasure and Taste in One Place
Casual, friendly atmosphere with a selection of pizzas to suit everyones tastebuds. GF available.
Our Products
Some of our favourite pizzas:
Our Happy Customers
Dined at Grotto's for the first time tonight. Food was lovely and the service outstanding.

Travel to Adelaide regularly from Northern Ireland and will definately make this a must visit next time, best pizza ever

5 stars
Fantastic pizza great service cant ask for anything more we will be back great job boys.


Our Staff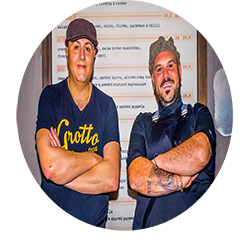 Mim
After 5 years away from the business Mim decided that he needed to break away from the large scale cafe like operations. He wanted a quaint streamline pizza place (a friendly pizza-teca) that concentrates on offering one great product – PIZZA!
The old adage of doing more with less is never truer than in this restaurant. Grotto specialises in making pizza and making every one outstanding. The formula here isn't complicated: traditional pizzas made with quality, fresh ingredients. If this is all we did it would be remarkable enough, but where we truly excel is the slightly off-kilter flavour combinations.
Grotto, Adelaide's favourite pizza restaurant is still going strong after 11 years! Located at 61B Edward Street in Norwood – just meters off the Parade – with plenty of parking available. Like us on Facebook to be kept up to date with our latest offers!
Also check out our website menu and be sure to bring in the coupon for 10% cash only discount!